Your Breeding & Training Stables
Welcome to the breeding and training stable Bescht at Schlieckau!
Since 1993 we run our breeding and training stable with great enthusiasm and commitment. Our family stable offers you, with the support of our experienced and long term expert staff of course, the complete service all around horse breeding and training.
In Schlieckau you will find the best possible environment for the upbringing and professional training of your horses. As the only private testing station we run stallion performance tests several times per year and also offer mare performance tests.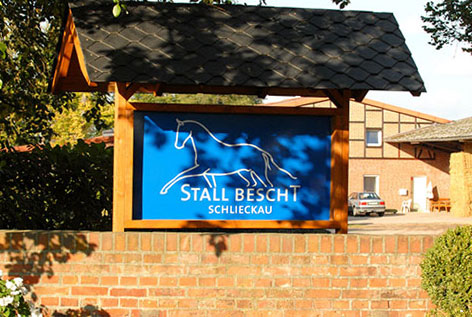 Convince yourself from our premises!
Calm and untouched, the best for your horse.
Stallion Performance Test
14.04. – 17.04.2018
Closing of Entries: 07.03.2018
12.09. – 25.09.2018
Closing of Entries: 15.08.2018
Stallion Performance Test
Jumping
31.01. – 23.03.2018
Closing of Entries: 03.01.2018
Dressage
09.10. – 27.11.2018
Closing of Entries: 06.09.2018
Mare Performance Test
Stations Performance Test
Our Partners
Because one and one complement each other.